So yesterday, we introduced you to the amazing Leo 'Golden Child' (If you haven't already, check out Part 1 now!) and due to an incredibly hilarious and… long interview, we want to introduce you again with PART 2!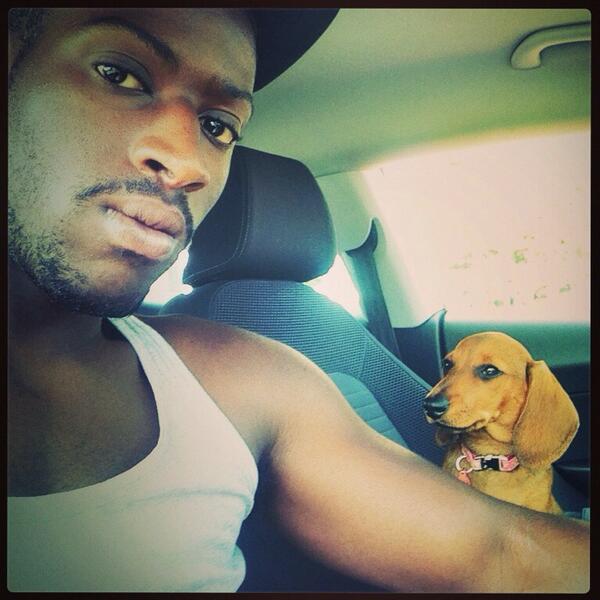 Featuring both Leo himself, 23, and his manager, Mark Tolliss, here is the second half of our amazing interview alongside some of YOUR questions from Twitter.
Enjoy!
And make sure to check out his music video, 'Stay Positive', below and read the interview with the amazing, Leo 'Golden Child'!:
---
– So you've been added onto the Osfest line-up, how did that come about?
Leo: Well at the start, we had a lot of supporters saying that we should get involved with Osfest, so I brought it across with Mark and he said "We will get you into Osfest" with no hesitation, he just said that. So Mark went direct… and in a nutshell, after weeks of consistency, he made it happen and once again, it goes right back to the message of the music – Mark was talking about the genuineness, the school tour and the message and giving something back to the point where something had to give – they were more than happy to have me there and they want me there.
Mark: Carly Woodwood, the Events Director at Osfest is a lovely lady, but she must receive so many requests from people wanting to join the line-up. For me, as I said earlier, we're nothing special, but we're doing good because we want to and because it's fun. So I just spoke to her and emailed her, telling her – this is what Leo is about, this is what we're doing – my role is to be his manager, mentor, guide and guardian, I'm not here to make money. I told her that our ethics are exactly the same as the message we're sending out.
Leo has been around for a couple of years, with his Union J stuff and onwards – from that, you don't get a position on Osfest like that, it doesn't happen. So the fact that it's happened – we're working hard, but it seems easy.
Leo: And enjoyable. We've had lots of positive feedback from the fans and I'm still not over it to be honest. Like I said, it's the same if you're studying… or you're a manager, if you work hard – something has to give – So as much as it's been a shock, it's what we've achieved… It's what our hard work has achieved.
---
– Is there anyone who you're looking forward to seeing perform live yourself?
Leo: Conor Maynard I'd say… And meeting Union J again for the second time – especially as it's more of a friendship now, so from Union J, who I've already supported, Luke Friend, Elyar Fox and Wiley, who I've already had a RT and comment back from on Twitter – So we're at that stage now, where we've took it to another level, where it's now a friendship. I'd probably say I'm most excited to see Union J though.
---
– So any new song releases to look forward to?
Leo: We have a song out for release this month –  but I can't release too much information on it, including the name. But it's going to be epic, like all my songs, this one has a meaning to it – it's more of a happy song.
Mark: It's like the end of hurting, cause every song he's doing – they're about his life.
Leo: I mean, if you notice – like Mark said, they're about my life. If you notice, I don't do covers, all of my music is original and for an artist to get established without releasing covers is a hard task to do.
Mark: The fact Leo doesn't do covers is, again, an absolute testament to him and his talent. Artists don't really ever get noticed early on doing their own material. They normally have to do a lot of covers to get on the 'scene' before introducing their material, but Leo has been a one off – thankfully.
---
– What was the inspiration behind you track 'Stay Positive'?
Leo: My inspiration was my mum – My mum and life. It's about the way I felt at the time I wrote it, it was about staying positive and at the time, I was thinking 'how can I stay positive?' – I needed some source of positive character cause I didn't have one really. I didn't have that father figure around me. I didn't have anybody I could really ring at this point – So I needed to do something as a backup.
So I'd say my mum was the biggest inspiration for that song… definitely.
---
– Now, the video has quite a lot of fan involvement, why did you decide to get them involved?
Leo: To put a legacy on… I want everyone to be positive! I genuinely wanted for that video – loads of smiles, loads of smiles and lots of different faces. Some people weren't up for doing it and yet, other people were. I wanted people to see different characteristics, not just myself, so I thought – why not get everybody as a unit involved in this video.
It was a good way to get creative and do something for a good cause with a good song.
The song isn't just a song and wasn't supposed to be just a song, it's more of an act – with real people smiling and staying positive – I just wanted to do something good.
---
So speaking of you amazing fans! We received quite a few questions from you guys on Twitter, so we asked and here is what Leo had to say!
– Which artists do you look up to? – @jadesaltx
Tinie Tempah.
– Whose your celebrity crush? – @jadesaltx
I have two: Fearne Cotton and Tich.
– What's your childhood nickname? – @jadesaltx
In school, I was bullied a lot, I went to a school where everyone was different ethnicities, backgrounds and such – And I used to be picked on for being the darkest of the group. However, I decided to make a name for myself to stop people from saying stuff, so I decided to call myself Chalky – to resemble a chalk board.
– What is the best moment of your career so far? – @DaniTurner00
Meeting Mark – Definitely, no questions about it. He's my manager and mentor, but has become like a father figure to me and I owe him such a lot. I have learnt so much about the industry, performing, etc. but I have learnt about life from him too. Our friendship is long term and I am thankful for that.
Mark: Wow, Can't say anything other than thank you Leo! And I'm here for you throughout the whole journey!
– Which venue has been your favourite to perform at? – @thevamps5sos13
Buttermarket!
Mark: He did a gig at the Buttermarket, he does a lot at the Buttermarket – and Grant from there, supported him – to the point where, he doesn't put Leo on first anymore – he puts him on second or third, ready to open the place up. It's like… Leo did a gig there on Saturday (April 12th), supporting Tich and he was third on stage.
– Is there any advice or motto you live by? – @DaniTurner00
I would say, 'Fly high like an eagle' and 'don't settle for average.'
– Explain your music in five words? – @DaniTurner00
If I had to explain it in five words, they'd probably be: positive, story, emotional, creative and original.
– If you were to take the Queen on a date, where would you take her? – @_ortisewilliams
I'd probably say TGI's. That way we can get deserts and chill out with chocolate waffles.
– Will you marry me? – @jadesaltx
Yes, of course!
---
So there you have it!
Leo 'Golden Child' is definitely one to look out for this year, with a list of amazing opportunities lined-up, we wish him all the best!
With great talent and an even better message being spread through his songs, Leo is the one to watch!
Thank you for all of your questions!
You can follow both Leo and Mark on Twitter:
@UKLeonardoUK
@MarkTolliss
(No Images or Videos included are our own)