With two singles already under their belt and a few fans here within Brumotions (Totally not ashamed to admit this!), we wanted to share with you, the incredible Janoskians (Just Another Name Of Silly Kids In Another Nation) and their newest single!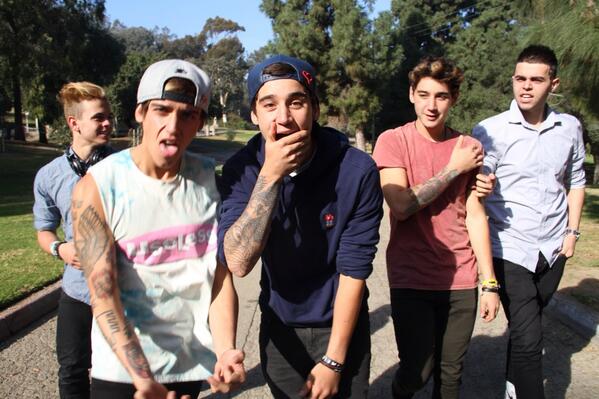 The boy's newest single 'Real Girls Eat Cake' was released on May 11th and is an incredibly catchy number with an inspirational message woven into the track, endorsing positive body image: 'I don't need a girl to worry 'bout a thigh gap. I like the fact that you don't give a sh*t about that. I like a girl who eats more than salad on a date.'
Consisting of Daniel 'Skip', Beau, Jai, Luke and James (L to R), the boys have previously performed in major cities across the US, Europe and their homeland Australia.
However, soon after the announcement of their newest single, the lads announced a UK tour!
That's right people, for those who were unable to see them the first time, don't worry as you can now see the boys in a range of locations across the UK as you can see below:
29/8 – Birmingham, UK//O2 Academy.
30/8 – Glasgow, UK//O2 Academy.
31/8 – Belfast, UK//Ulster Hall.
1/9 – Dublin, IE//The Olympia Theatre.
2/9 – Dublin, IE//The Olympia Theatre.
4/9 – Manchester, UK//Manchester Academy.
5/9 – London, UK//O2 Shepherd's Bush Empire.
6/9 – London, UK//O2 Shepherd's Bush Empire.
7/9 – London, UK//O2 Shepherd's Bush Empire.
The Janoskians are not only releasing a number of fun and catchy tunes which will sound amazing on tour, but they also love to have a laugh like a normal group of lads, which can be seen in their various prank videos on their YouTube channel.
With a dedicated worldwide fanbase, these boys clearly show why they're well loved with the hilariousness of their videos and catchy tunes being released under their record deal with Republic Records, the newest release of which has charted in a number of countries.
Make sure to take advantage and see these incredibly hilarious lads on their headlining UK and Ireland tour in August and September!
Real Girls Eat Cake is available NOW!
And why not check out their newest music video and some of their other hilarious videos below:
Follow The Janoskians on twitter:
@janoskians
@luke_brooks
@James_Yammouni
@BrooksBeau
@JaiBrooks1
@danielsahyounie
(No images or video footage included is our own)