With so many new artists appearing on the music scene, we have once again completed a search both far and wide! (though luckily this one was closer to home…) and we want to introduce you all to the amazing band that is… Hollywood Ending!
Although we – here at Brumotions – had listened to these guys nearly two years ago. We finally gained the chance to see them live at this years OMG Live event in Birmingham (alongside Union J and Lawson).
Consisting of Tyler, Cameron, Dan and Chris (the last of which is related to the incredible James Bourne from Busted), the band have appeared on many tours across the US and Canada.
But don't you guys worry!
The lads are staying in the UK for a while, to not only support McBusted on their tour from May 11th until the end, but you can also catch them on their very own, headlining tour in June!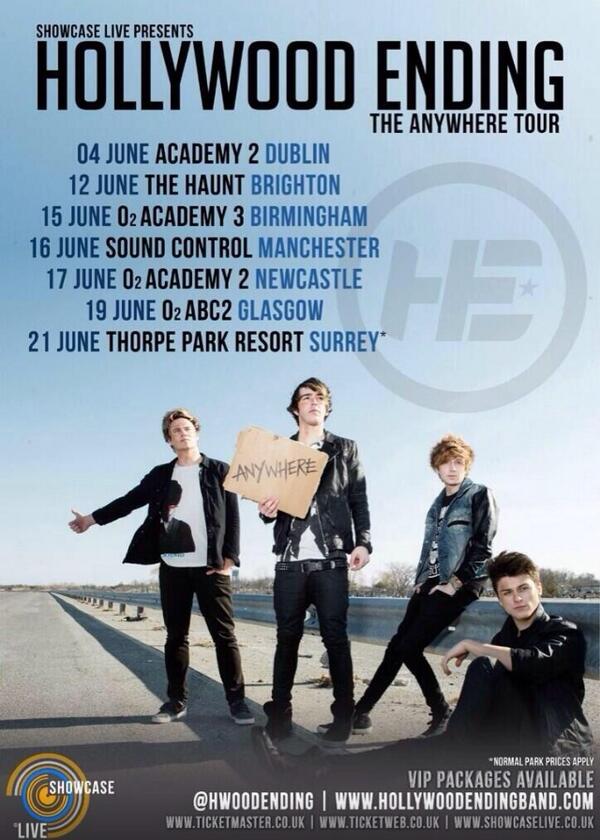 Hollywood Ending are a young group of lads who love to have fun on stage and their relentless energy is contagious and will leave you dancing and singing along!
With an incredible arsenal of songs and amazing musical talent, these boys are definitely one's to look out for and we recommend that you take advantage and see them on their headlining UK tour in June!
You can also order their brand new EP 'Anywhere', which is available NOW on iTunes!
And why not check out a few of our favourite videos by the boys below:
Follow Hollywood Ending on Twitter:
@HWoodEnding
@HollywoodTyler
@HollywoodCamB
@HollywoodDanny
@HollywoodChrisB
(No images or video footage included is our own)