Here at Brumotions, we LOVE discovering new artists!
And although Leo 'Golden Child' has already received amazing opportunities within his career so far, we decided to meet with the young star and see what he has planned and allow you all to discover the talent that is: Leo 'Golden Child'!
An interview with lots of laughter and a few more serious notes with Leo himself, 23, and his manager, Mark Tolliss took place along with some of your questions and we're sure you'll enjoy reading it as much as we did conducting it.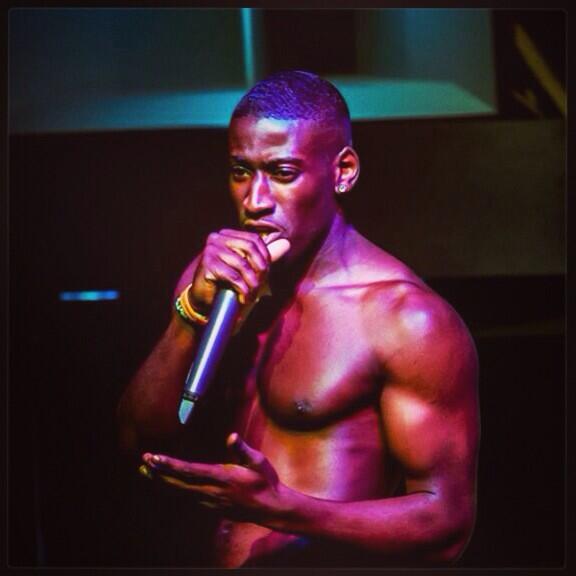 His songs have great meaning and spread messages for good causes to connect with those that hear it and we're sure you'll fall in love with this artist, just as we have.
Make sure to check out his music video, 'Stay Positive', below and read the interview with the amazing, Leo 'Golden Child'!:
---
– Why don't you tell us about yourself, what makes Leo, Leo?
Leo: What makes Leo, Leo? I'd say unique, not your average musician, just being me really – I'm an artist, as well as being a role model, as well as being a young carer – So it's not just about being an artist but the whole holistic approach of being just myself really.
Mark: I met Leo… Just over four years ago, while he was working at Marks & Spencers – he was on the till at the time and I was yawning, so he said "Oh, have you been working hard?" and I said, "Yeah, I'm gigging tonight as well."
"Gigging, what do you mean?" – it was as simple as that, so I explained what I did and he said that he was interested in it as well, but he felt the need to work on his singing. So I offered him advice and vocal coaching, but more for the mindset than simply singing a certain way. For me it was all about self confidence to allow the natural voice and talent out. He brought his mother, Patricia with him and we got on fantastically well. It all began by accident really.
Leo: That's why I say fate. When things are going to happen… they happen.
Mark: So the Golden Family carried on…
Leo: And it will carry on for many years!
---
– So you've supported a few people including Tich and Union J, what have your career highlights been so far?
Leo: I'd say the Union J show… that was possibly my biggest show – the turnout for that was epic! I was in a position where there were thousands there and to be in that position where I tore it up and won the crowd over – so I'd say that. However, the school tour that I'm on at the moment has been the most monumental.
---
– Do you prefer to play your own shows? Or for the larger acts?
Leo: I don't mind really, I prefer to work with big acts. However, the approach when I'm performing myself is a bit more personal. I can relate with the audience so I would say possibly on my own to be honest.
---
– So who would you love to support on tour?
Leo: Tinie Tempah, definitely, definitely.
---
– So what exactly are you fans called? We decided to have a little creative session earlier and came up with Golden Children.
Leo: It used to be Golden Children at one point, but it's the Golden Family. We normally say Golden Family really, the fans generally just make their own up with golden in front of it – it's cool.
---
– How's the school tour been so far?
Leo: It's been interesting, monumental, emotional and it's been exciting. I've definitely took my career to another caliber. It's a testimony to my life story really, the questions I have been asked so far have been pretty memorable – they've been both funny and also emotional with the responses we've received like students having problems at home – including those I can relate to, it's been touching to the point where we've had tears.
Mark: People have been emailing us from various schools we've been to – we're not councilors but when we're connecting with these people and hearing their stories. We get stuff like "Leo's lyrics mean so much to me because my parents are splitting up" and "I get bullied and have considered taking my own life" – that's deep and we were there… If Leo hadn't of been performing there or reached out, who would they have spoken to? So we've alerted the right people to make sure these youngsters aren't left out on a limb or feeling alone.
We are giving supporters 'real music' and at the same time, an outlet for them. To speak to, to get things off their chest and even feel like they have a friend. When we say we are 'saving' some young people from themselves, it is exactly that, you're giving people that lifeline so they have someone to talk to. We're just normal people, Leo's had a touch life, and I'm his friend more than his manager – it's just so enjoyable to watch this lad, more genuine than anything, going out to do what he wants to do – you can't beat that.
---
– So do you have any more schools lined-up?
Leo: I should crack the diary out. It's moving at a rapid pace – but we're trying to get more in the Birmingham area as we'd like more gigs on our doorstep. I'd love to stick with the school tour – we actually discussed this on the way here and I said that it's what is needed! It's what creating a legacy is about and it's what people want to hear.
Mark: I can honestly say that with the response we've had so far and the feedback from pupils, we will continued to the school tour for the coming years… it's so rewarding.
---
– Any plans for international gigs? Especially as you have your French Street Team?
Leo: We actually have some stuff happening over there soon, we have a secret video shoot – which we can't give you much detail into, but it's going to be epic – but yes, we're doing that over there (Paris) and meeting the street team. We're also meeting a few people from the States, like in Colorado, Holland and also Germany. The interest has been massive but it is all stemming from the 'message' we're sending out.
Mark: This has all come from people actually following and being interested in what we're doing – they like the message that Leo's putting out there. We've had quite a few anti-bullying campaigns wanting to work with us – I've seen it many times already and yet still, sometimes when I watch Leo and see those kids completely drawn in and listening to what he's saying – tears.
Leo: It's gotten to the point with school tours where, we're in magazine and random publications that we didn't even know we were going to be mentioned in. Half of them we aren't aware of – the message is that strong, it's creating waves and we're not even aware of the waves. So it's viral and essential – I always strongly believe that you shouldn't create music if you don't have anything to talk about – if you don't have a story to tell, there's no purpose.
---
So that's all for PART 1 of our interview with Leo 'Golden Child'!
Make sure to check out Part 2 TOMORROW! Where we'll be discussing OsFest, A new song release and the inspiration behind his track 'Stay Positive'.
He'll also be answering some of your questions from Twitter!
If you haven't already, make sure to follow Leo and Mark on Twitter:
@UKLeonardoUK
@MarkTolliss
(No images or video footage included is our own)